Wispy strands of hair flew out from under the red beret perched smartly on her head.
 Her cool gaze traveled over the cliff and into the water, as the huge waves crashed onto the beach below.
With one hand, she pulled out a camera from the confines of her overcoat.
 Carefully, she adjusted the focus on the lens, so that the background wouldn't overshadow the subject.
She calmly peered through the view finder and snapped a picture.
Two white arms and one terrified head struggled to stay above the surging, white foam.
The loud, gut-wrenching yells were ripped from his throat and slammed into the unforgiving cliff, lost forever in their stoic stature.
As she turned to walk away, she glanced back for one second to ensure that he was gone.
He would never, ever hurt another human being again.
~~~~~~~~~~~~~
Today's theme was to write a piece of fiction which was exactly 9 sentences long
Click
here
to read more entries!
Linking this up to the Moonshine Grid #159 at Yeah Write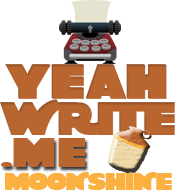 Like this post? Share the love using the colourful share buttons below 🙂 Thank you!