Last Updated on by Shailaja V
There is a woman in my life. 
I see her every morning. She comes home, neatly attired, smelling of the jasmine flowers that adorn her hair. When I open the door, she greets me with a warm, open smile. It is the kind of smile that you reserve for your near ones; the kind of smile that touches your heart and gladdens you.
We have known each other for close to two years now. The other day, as we both sat sipping our steaming cups of tea, she told me a story that I would never forget:
The house next to mine had a sad story. The couple there had a young daughter, all of 11 years old. The father was a violent man, given to physically abusing his wife and daughter, hitting them when the frenzy struck him. The mother, unable to bear the agony of daily abuse, took to drinking and became a raging alcoholic. The innocent child was left to fend for herself. Many days, she would be starving with no food to eat. The constant abuse and the drinking  reduced her to a shell of her original self. She was slowly withering away.
With tears in my eyes, I asked her what happened to the girl.
She looked me in the eye, emptied her tea cup, dabbed her mouth with the edge of her dupatta  and said, in a matter-of-fact voice, "I adopted her". Then, she stood up, picked up the broom from behind the kitchen door and proceeded to sweep the house.
Speechless, I sat there, staring at her as she went about tidying my house, mopping the floors and rinsing the dishes in the sink. Here was a woman who worked very hard for a living. She worked tirelessly from morning to evening, to provide for the family. Her life is not an easy one; but she smiles through it all.
She found a child in pain and didn't think twice before adding her to her own family. In her place, would I have done the same? Honestly, I don't know.
And, you want to know the best part? She has two sons of her own.
Inspiration can come from anyone. 
It can come from the kindness of a child when he tells you why we shouldn't kill a snake, since it is also one of God's creatures. 
It can come from your peers when they selflessly and lovingly take in stray animals. 
It can come from the virtual space when a wonderful friend coaxes you to make every second count and you just want to reach out and give her a big hug!
Be open to inspiration and it will find you and touch your life in more ways than you can imagine.
Yes, there is a woman in my life. 
Some day, I hope I can be half the woman that she is today.
For 
6th March this was our prompt:
 Share an inspiring story/ a personal experience that will inspire.
Click here to read more entries! 
Like this post? Share the love using the colourful share buttons below 🙂 Thank you!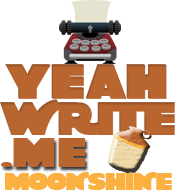 This Post was picked by BlogAdda.com for their Spicy Saturday Picks!!